Sexy But Not Vulgar: The Top 10 Mistakes and How To Avoid Them
Sugar daddies are sophisticated men known for their good taste, elegance and success. For this reason, it is of extreme importance to look sexy but not vulgar when in their company. Do you want to know how? Follow our tips to avoid the most common mistakes and never fail to impress your sugar daddy ever again!
The difference between sexy and vulgar
The term vulgar can be used in different contexts with more or less similar meanings. It refers to things, behaviors and people who seem to lack taste and tact. Vulgar acts and expressions are inappropriate for the context in question. They show that the person responsible for them lacks good manners. When it comes to an outfit, it usually refers to too much skin and overall poor taste when combining pieces and accessories.
The term sexy, on the other hand, is associated with the quality of being attractive. This is usually achieved through a conscious choice of clothes. Here, the secret is to show just enough to intrigue your SD, but still leave room for imagination 😉
Being sexy but not vulgar: practical advice
#1 Wear glasses
For a long time, glasses were associated with ugly and nerdy people, but now things have changed! Many think they actually give you an air of intelligence. Did you know that some people find intelligence attractive? They are the so-called "sapiosexuals" and part of a trend that has been growing so quickly that you can even use it as a tag in your profile on some dating sites!
Besides making you look smarter, glasses can also create a bit of mystery by partly hiding your eyes. However, don't forget that not every frame will suit you. Luckily, there is much that can be learnt from good ol' YouTube. Here's an amazing video on how to figure out your face shape and find the right pair of glasses for you:
#2 The right hairstyle
Most sugar daddies find girls with long hair very sexy. However, this doesn't mean you have to keep your hair down all the time — quite the opposite! You can have fun changing your hairstyle every time.
Here's another secret: hairstyles that leave your neck exposed can be extremely sexy without being vulgar! If you like the idea, here are 10 hairstyle ideas and how to do them step by step.
In any case, make sure your hair is always clean (not implying that you have to wash it every day!), free of split ends and well styled!
#3 Sexy but not vulgar makeup
No matter what trends are in vogue, never forget that makeup is meant to highlight your features, not change your appearance completely. This is why sugar daddies prefer sugar babies with lighter, occasion-appropriate makeup. As we said, occasion-appropriate is the opposite of vulgar!
When it comes to the most common makeup mistakes, the problem is not only the amount of product used but also the choice of colours. It all starts with your undertones. To find out if your undertone is warm or cold, look at the colour of your veins on your wrist. If they are blue or purple, you have a cool undertone, and if they are green, you have a warm undertone.
If you want to learn more about how to identify your skin undertone and which colours work best for you, I recommend this article from Byrdie. It will help you work out, for example, whether it is better to wear a poppy red lipstick, which is more orangey (and, therefore, warm), or a cherry red. By choosing the right colours and applying the right amount of makeup, you are sure to look sexy but not vulgar!
Related article: FOLLOW THESE TIPS TO INSTANTLY LOOK MORE ELEGANT
#4 Show the right amount of skin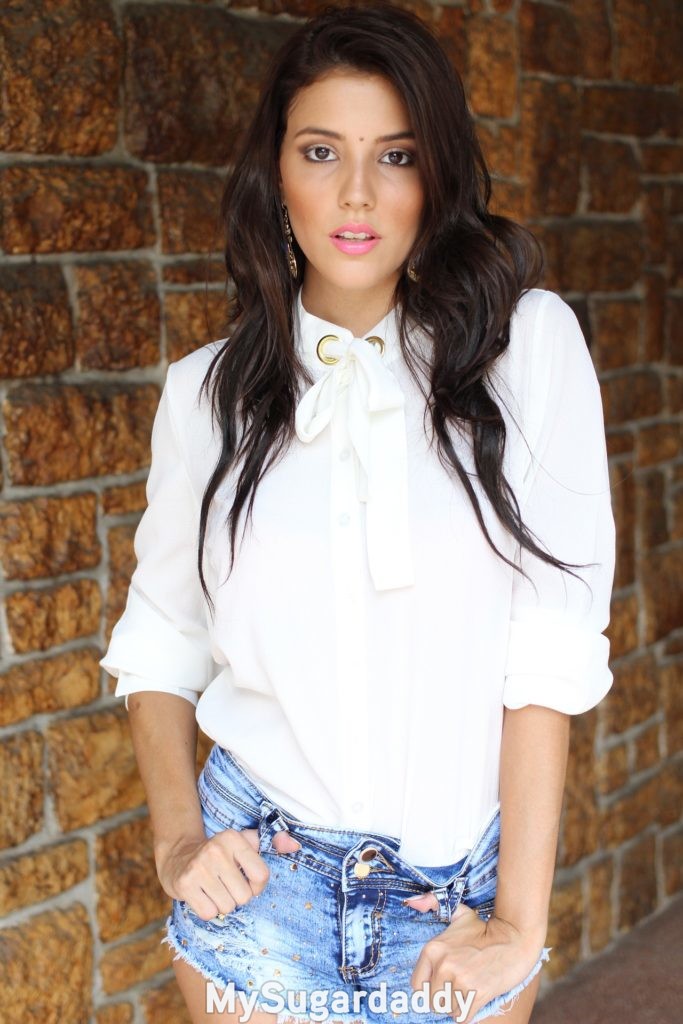 Dresses with cleavage, if worn in the evening in an appropriate venue, can be breathtaking! The same can be achieved by the opposite: a deep neckline in the back with a plain front. It is always about the right amount of skin.
If you choose to wear a low-cut top, make sure your legs are well covered. Avoid the combination of a low-cut top and a miniskirt, as this leaves little room for fantasy and is too vulgar. Another tip I always follow is that if I opt for a tight-fitting top, I wear a looser-fitting bottom (or the other way around).
The secret to being sexy but not vulgar is, in fact, to only show the skin of one part of the body at a time: either your shoulders and cleavage or your legs.
#5 Leggings
Leggings are a wonderful invention: they are extremely comfortable highlighting women's curves at the same time. When worn on a more casual occasion and matched in the right way, they can be extremely hot!
However, looking vulgar with leggings is very easy. The mistake here is to combine them with shirts that are too short as if they were regular trousers. And since they obviously aren't, you should combine them with a top that covers your behind, such as a long cardigan.
#6 Tights and stockings
Tights are also one of most sexy accessories! In order not to wear them in a vulgar way, avoid overly extravagant colours and over-the-top embroidery and patterning.
Surprisingly to some, you can also go wrong with skin-coloured tights. That's the case if you don't find a colour that matches your skin tone. Therefore, to be sexy and not vulgar, opt for sheer black tights, 50 denier max, always worn with a darker shoe.
#7 High heels
Aren't high heels one of the most beautiful things that can be found in a woman's wardrobe? And don't they have the biggest effect on an outfit? They lengthen the leg and accentuate the curves, making them a woman's best friend but also her biggest enemy.
There are two things that can go really wrong if you pick the wrong heels. First and foremost, the wrong pair can make your feet sore. We've all experienced that probably more than once. To avoid that, you can go easy on the height of the heels or invest in gel pads and special bandaids for your toes. You can also break them in at home by wearing them for some hours before the big event or wearing them with socks and heating the tight spots with a blow dryer. This way, your feet will hurt less when they get swollen hours into your date, as it usually happens.
The second thing that can make wearing high heels go seriously wrong is when they are too high for you, making walking elegantly pretty much impossible. As no one enjoys looking ridiculous, we recommend practising walking with them on at home until you feel confident in them. Try to walk as gracefully as you can, as if you were walking on an imaginary rope.
#8 Keep your hands and feet well groomed
Sugar daddies don't miss the little details, so something like chipped nail polish can easily ruin your perfect look. As the hands are one of the most visible parts of the body, don't neglect them! And if you don't have the time to make sure your nail polish is always perfect, use a clear one. They make your nails look healthy and well kept.
The same goes for your toe nails and feet overall. Don't forget to apply foot deodorant, especially if you are wearing heels without tights. Also, make sure your skin is smooth. This can be easily achieved by rubbing the soles of your feet with a pumice stone after the shower.
#9 Matching colours
A combination of very different colours breaks the harmony of the outfit, sometimes making it look vulgar. If you want to play with colours, make sure you always combine colours of the same temperature. So never mix warm colours with cold colours. For an even more elegant touch, play with tone on tone, i.e. wear clothes with many shades of the same colour.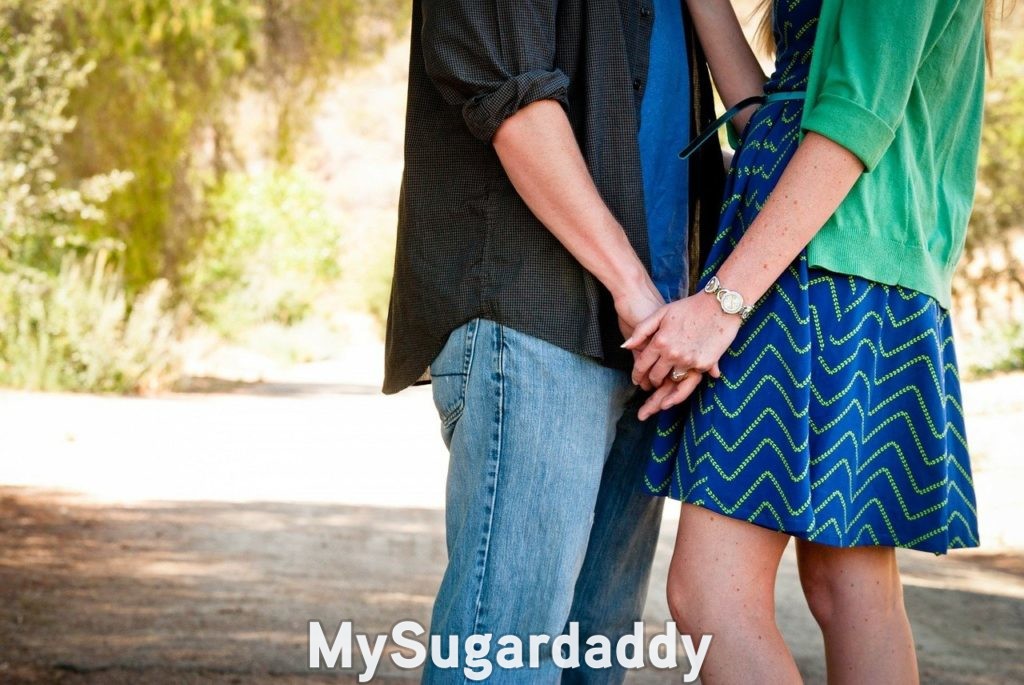 #10 When it comes to clothing, size really matters
A t-shirt that's a size or two too small might be great for accentuating your shape, but will make you look vulgar in pretty much any occasion other than a rave. Conversely, a T-shirt one or two sizes larger will make you look anything but elegant. So always wear clothes your size, even if it means spending hours in the fitting room. It will highlight your curves at the right places, so it is definitely worth it!
In fact, the reason why celebrities always seem to look flawless is because they only wear clothes that fit them perfectly. That doesn't mean they only wear skintight clothes. As we said above, it is important to show the right amount of skin and combine tight-fitting pieces with looser ones to create a look that makes you look sexy, but not vulgar.